Management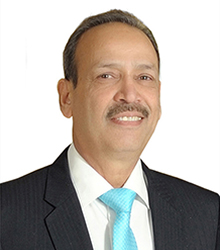 Mr. Abid Aziz,
Managing Director & CEO
Mr. Abid Aziz is a Masters in Business Administration from Quaid-e-Azam University, Islamabad. He also holds a bachelor degree in Pharmacy and Law from Karachi University and various professional qualifications such as Diploma Associate Institute of Bankers, Pakistan (DAIBP), Canadian Securities Course (CSC) and Fellowship of Institute of Chartered Secretaries & Managers (I.C.S.M).

He started his career in 1983 as Project Officer in Pak-Libya and climbed upto the senior most cadre. He carries 33 plus years of diversified experience in the field of Banking & Finance including Project Financing, Investment banking, Treasury & Cash Management, Lease Financing and Resource Mobilization. He also worked for Ontario Financing Authority, Canada, AMEX Canada Inc. and Dundee Reality Canada.

Prior to his appointment as MD & CEO of Pak Libya, he had been working in the capacity of SEVP and Company Secretary since 2001.