Management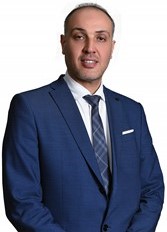 Mr. Abdulfatah Ashour Ali Ejayedi,
Director
Mr. Abdulfatah Ashour Ali Ejayedi is a result-oriented professional having over 14 years of rich experience in the financial industry. During his professional career, he worked on various key positions in different organizations. He is presently working as Deputy Head of Treasury Department at LAFICO, Libya.

Mr. Ejayedi joined LAFICO in 2005 and elevated to senior positions while working in various departments after acquiring professional skills and rich experience. In 2010, LAFICO posted him as Director of Financial & Administrative in Egypt at Arab Company for Tourism. Later on, he was also assigned the responsibility of Member of the Board of Directors at Swiss Inn Hotel Management, Egypt. In 2014, he was posted back in the head office of LAFICO, Libya where Mr. Ejayedi worked as Senior Accountant till 2016. In 2016, he became the Member of the Board of Algerian Holding Company, Algeria. Mr. Ejayedi holds Higher Diploma Certificate in the Field of Banking & Insurance from The Higher Center for Administrative and Financial Professions, Tripoli, Libya.