Management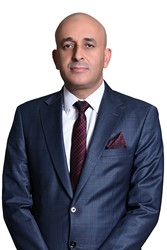 Mr. Khaled Joma Ezarzor,
Deputy Managing Director
Mr. Khaled Joma Ezarzor is a dynamic and result-oriented professional having over 16 years of rich experience in the financial industry. During his professional career; he worked on various key positions in different organizations. Before becoming DMD & Director of Pak-Libya in April 2017, Mr. Ezarzor has worked in the Company as S.V.P from January 2006 to September 2007.

Mr. Ezarzor joined LAFICO in 2000 and gradually elevated to higher positions after acquiring rich experience while working in various departments. In September 2007, LAFICO assigned him new responsibilities and posted him in China at M/s. CixiXunlei Bearing Company (Pvt.) Ltd. as Deputy Managing Director & Member of the Board of Directors where he worked till October 2012. Afterwards, he was posted back in the head office of LAFICO, Libya where Mr. Ezarzor worked in Financial Analysis Department from November 2012 to December 2015 thereafter he was promoted as Head of Financial Analysis Department in January 2016. Since September 2013, Mr. Ezarzor is representing LAFICO as the nominee Non-Executive Director on the Board of M/s. Zara Investment Company, Jordan.

Mr. Ezarzor holds a Bachelor's Degree in Accounting from University of Benghazi, Libya and Postgraduate Diploma in Accounting from Al-Acadmeia, Libya. He has sound interpersonal skills and capabilities to resolve multidimensional complex issues.