Management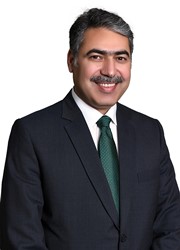 Mr. Abrar Ahmed Mirza ,
Director

Mr. Abrar Ahmed Mirza is Director of Pak Libya Holding Company (Pvt.) Ltd. He is a career civil servant who has been associated with important Government positions at Federal and Provincial levels, from time to time. He holds over 18 years of extensive experience of in Public Administration, Finance, Accounting and Audit. He is currently serving as Joint Secretary in Ministry of Finance, Govt. of Pakistan.

Mr. Mirza being an experienced person has thorough knowledge of the applicable laws, regulations, legal environment, administrative affairs etc. During his career, he has attended several training programs pertaining to his profession. Mr. Mirza did his M. Phil and M.Sc. from Quaid-e-Azam University, Islamabad.

Mr. Mirza is also the Chairman of the Risk Management Committee, Member Audit Committee and Credit / Investment Committee of the Board.