Management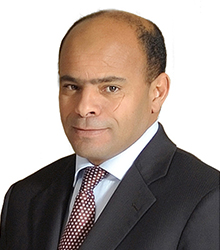 Mr. Bashir B. Omer,
Chairman
Mr. Bashir is an Investment Banker with over 27 years of experience in Financial Management, Accounting, Portfolio Management and Equity/Stock Market Operations. He is associated with Capital Market Long Term Portfolio, Tripoli, Libya from 2004 till date.

Mr. Bashir has also worked for Libyan Foreign Investment Company (LAFICO), Libya.

In past he has been associated with Pak Libya Holding Company (Pvt.) Ltd as Head of Securities & Portfolio Management, member Credit Committee/ALCO. During his stay at Pak-Libya, he quickly developed familiarization and sound understanding of domestic market and outstandingly handled his assignments with his acumen and professional skills. Later on, in 2007, Mr. Bashir was appointed as Director on the Board of Pak-Libya and subsequently, in 2011, nominated as the Chairman of the Board of Directors of the Company. Mr. Bashir B. Omer's presence on the Board as a Director & Chairman is always considered a source of valuable contribution towards growth of the Company.